The 4th Annual Salem Food Truck and Craft Beer Festival, 2023
The Sandwich Fair of New Hampshire, 2023
Get to The Sandwich Fair in Sandwich NH
40th Annual DJWC Craft Fair in Dedham, MA 2023
Get to Dedham Middle School in Dedham , MA
4th Annual BSV German Club Weihnachtsmarkt
in Walpole, MA 2023
Get to the Boylston Schul-Verein in Walpole , MA
The 3rd Annual Salem Food Truck and Craft Beer Festival, 2022
The 3rd Annual Newport Food Truck and Craft Beer Festival, 2022
Get to Fort Adams in Newport, RI
37th Annual Applefest at Wachusett Mountain, 2022
Get to Wachusett Mountain in Princeton, MA
39th Annual DJWC Craft Fair in Dedham, MA, 2022
Get to Dedham Middle School in Dedham , MA
4th Annual BSV German Club Weihnachtsmarkt
in Walpole, MA, 2022
Get to the Boylston Schul-Verein in Walpole , MA
Sherborn Library Arts and Crafts Fair 50th Anniversary Event, 2022
3rd Annual BSV German Club Weihnachtsmarkt
in Walpole, MA, 2021
We attended the BSV Weihnachtsmarkt 2021 in Walpole, MA on Saturday December 4th 2021

"We will ring in the holiday season! Enjoy food, beer, Gluhwein and treats with us! Decorate your halls or work on your Christmas shopping with gifts from our marketplace and other local artisans and artists. Santa will be making an appearance for pics with the children! The Sängerchor Boston will perform German and English Christmas songs. We hope you will sing along and we look forward to seeing you!
This event is open to the public, free entrance. Please try to car pool. There is parking on site, but the event hosts want to make sure there is parking space for everyone!
ATMs will be available, but please bring cash if possible.
As with previous events, there are Port-a-potties for your convenience.
Please note: Please no outside food and drink, or pets. Only service animals are allowed on the grounds of the BSV."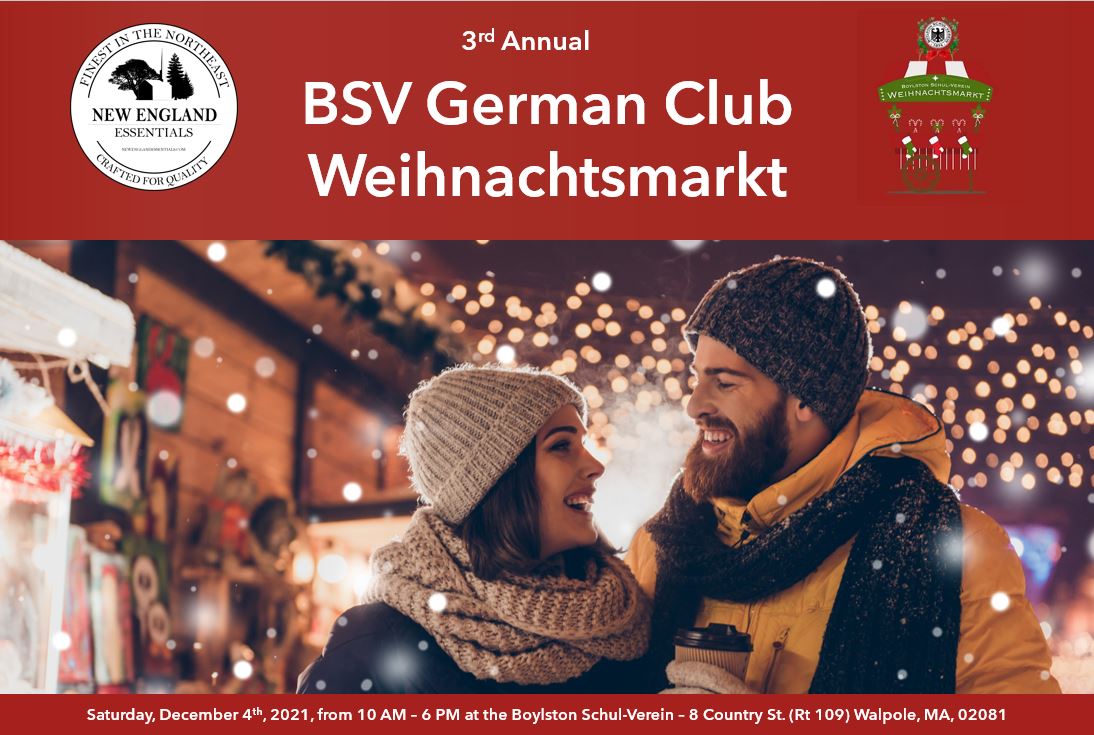 Open Air Farmer's Market in New Hampton, NH, 2021
We were at the New Hampton, NH Open Air Farmer's Market on Saturday, October 9th, Saturday September 4th and Saturday August 21st located at the historical townhouse - See you there next summer!


Our Community
The Lakes Region of New Hampshire has a lot to offer with rolling hills of agricultural land and hard working people. You will find many of them gathered here on Saturday mornings to offer their goods to the public. We have local food, crafts, gifts and more! Stop by!
New Hampton NH
Historical Townhouse
Saturday Mornings
10am-1pm
June 26th - October 9th 2021